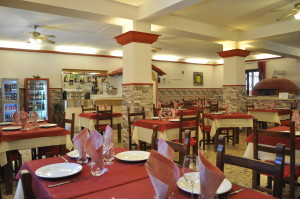 Hotel Tecla guests can use special conventions with "Nuovi Sapori perduti" restaurant and pizzeria.
Link: www.nuovisaporiperduti.it
Nuovi Sapori perduti restaurant and pizzeria is located in Fonte Nuova, aimed by its owner's, father and son, passion and professionalism, they will recommend you, typical Rome cooking in an original and genuine taste.
Fish dishes, grilled meat, Mediterranean hors d'ouvres dishes and tasty pizzas baked in our wooden oven with our typical Italian wine selection, makes a perfect meal.